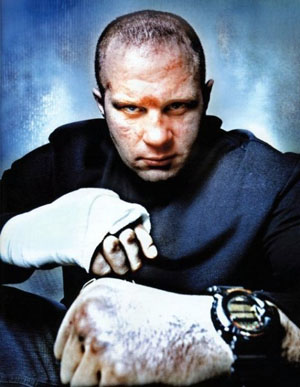 Fedor Emelianenko
The Russian Cyborg
The Last Emperor
Immortal 2000-2009
Record (31-4-1)
The greatest MMA Heavyweight Champion of all Time
There is heaps of cool fighters but their can only be 1 Fedor
The Iceman and The Axe Murderer come close
Alistair Overeem is a beast
And Dos Santos is like the dood from Halloween
Personalities as big as the sport itself
But they all sided with the enemy ZUFFAWORM / UFC
Fedor was different, he stood against them
A true solider of fortune
He fights for Russia
He chose to remain with M1
Thats a loyal and noble thing to do
When success calls most people turn their back on the people who got them there
Its not always a choice but a command from your new employers
Sometimes its at gun point
But Fedor turned down the demon that is ZUFFAWORM
With their photocopied SONY contracts
Sign here to be owned for the life of the Universe
FUCK OFF!
U cant own Fedor
Hes like the TREX in Jurassic park
He doesn't want to be fed he wants to hunt
He wants to be free
I can remember when I first started watching MMA I searched for a Champion
I watched heaps of Youtube videos
But everyone got beat
There was no 1 dood who just smashed everyone else
And then I heard this weird entrance theme music as Fedor comes down the ramp
And listening to Bas Rutten and some other guy freaking out
As Fedor beats the hell out of someone
Noone could beat him
Size didnt matter
They threw every type of fighter against him
Small fast guys and giant 400lbs monsters
Head stomping an knees to fallen opponents was legal
It didnt matter
On the feet he would knock them out
On the ground he would submit them
What else can anyone do but take a gun into the ring
He was unbeatable
He was a real living Legend
And for 10 years he reigned, the Last Emperor
FEDOR WAS THE PRIDE HEAVYWEIGHT AND OPEN WEIGHT CHAMPION
But an evil force was growing
Like one of those Shakespeare plays
There is always some jealous dicksnap mofo tryna fuck things up for everyone
ZUFFAWORM UFC had arrived
The new incumbent powers that be need their own hero
This oppressing dictatorship would have Fedor join them or see him die
They would rally thousands of disgruntled WWE peasants to rise against him
The new Champion was to be born and they would embrace him as the new king Brock Lesnar
The baddest man on the planet ZUFFAWORM LLC PTY LTD Copyright Trademark
"Where the best fight the best 3 times a year" Dana White
Hold on you lying fat fuck most of em are lucky if they fight once a year
FUCK OFF AND DIE!
For your disrespect to a true Champion of the Sport
Your success is measured by the number of people you have buried to get it
Remember that and remember this,
Fedor Lives!
List of the UFC Heavyweight Champions 2005-2012
2005 Andrei Arlovski (17-9)
2006 Tim Sylvia (31-7)
2007 Randy Couture (19-11)
2008 Antônio Rodrigo Nogueira (33-7)
2008 Frank Mir (16-6)
2010 Shane Carwin (12-2)
2010 Brock Lesnar (5-3) "Baddest man on the planet" Dana White
2010 Cain Velasquez (10-1)
2012 Junior Dos Santos (15-1)
Of 9 UFC Champions Fedor has defeated 3
The remaining 6 have all since found themselves asleep or TKO on the canvas
When asked who he felt was the greatest fighter of all time, Velasquez responded:
"For me, I think Fedor" I've always watched him as a fighter. I've always looked up to him. His overall size compared to the other guys, it seems he's always mismatched, but he always has a lot of power, he has good technique on the ground."
In 2010 Fabricio (The Fedor Slayer) Werdum defeats Fedor
As Fedor taped to that combo armbar/triangle choke, it was like 1 million innocent life's cried out in pain as when that Ewok planet was blown up by the deathstar, truly shocking but dramatic.
2011 Antonio (Bigfoot) Silva defeats Fedor
This battle against a 300lb giant was stopped when Fedor lost use of 1 eye. He is the terminator and doesn't even need eyeballs, but alas it wasn't to continue, yet still amazing battle!
2012 Dan Henderson defeats Fedor
This was a must win situation for Fedor even more so because of the weight advantage to him
It was a wild west shootout from hell mixed with some clinch fighting until 4:12 in the 1st round
Dan escapes imminent destruction to take Fedors back and fires in a stealth like laser guided uppercut from the kneeling position
In Greek mythology, when Achilles was a baby, it was foretold that he would die in battle from an arrow in the foot
Was this Achilles, Fedor? And was the arrow actually the Hendo H-bomb?
For a split second as Fedor went limp
It seemed like the prophecy was true, and that every planet in the universe had just collapsed into the sun
But NO Fedor needed only 1 millescond to reboot his primary kill chip
However the referee must have been wired into the matrix timeline he jumped in so fast i thought it was Fedors mom running in to stop the fight.
The fight was over :/ weak stoppage!
"It happens that I was made kind of an idol. Everybody loses. That happens. I'm a normal human being, as are all of us. If it is God's will, the next fight I'll win… No pressure at all." Fedor Emelianenko
Say what you will about Fedor's 3 losses
But understand that it is part of the sport
And will happen to every single champion at some point if it hasn't already
Fedor was an anomaly, a killer cyborg that could not be killed
All of his fights are dramatic beyond expectations
Remember that and respect it till the day you die
Fedor retired in 2012 after 3 wins in a row over Jeff Monson, Satoshi Ishii and Pedro Rizzo
His record ends at 34-4
To equal his record, Junior Dos Santos 15-1 will have to fight 3 times per year for the next 5 years without injury or losing
Nickname: The Last Emperor
Height: 6 ft 0 in (1.83 m)
Weight: 231 lb (105 kg)
Reach: 74 in (190 cm)
Stance: Orthodox
Nationality: Russian
Born: September 28, 1976
Fighting out of: Stary Oskol, Belgorod, Russia
Town of birth: Rubizhne, Luhansk, Ukrainian SSR
Team/Association: Red Devil Sport Club
Primary fighting style: Sambo, Boxing
Championships and accomplishments
WAMMA World Heavyweight Champion (2008-2010)
Pride World Heavyweight Champion (2003-2007)
Rings World Grand Prix Champion (2001-2004)
World Combat Sambo Championships
Bronze 2008 St. Petersburg +100 kg
Gold 2007 Prague +100 kg
Gold 2005 Prague +100 kg
Gold 2002 Panama City +100 kg
Russian Combat Sambo Championships
Gold 2012 Moscow +100 kg
Gold 2009 Kstovo +100 kg
Gold 2008 St. Petersburg +100 kg
Gold 2007 Ulan-Ude +100 kg
Gold 2006 Ulan-Ude +100 kg
Gold 2005 Kstovo +100 kg
Gold 2002 Moscow +100 kg
Mixed martial arts record including opponents record at the time
(W) 34 (L) 4 (N)1
(W) (34-4) 2012 Pedro Rizzo (19-9)
(W) (33-4) 2011 Satoshi Ishii (4-1) 2007 2008 Olympic Gold Medalist for Judo
(W) (32-4) 2011 Jeff Monson (43-12)
(L) (31-4) 2011 Dan Henderson (27-8)
(L) (31-3) 2011 Antonio Silva (15-2)
(L) (31-2) 2010 Fabricio Werdum (13-4)
(W) (31-1) 2009 Brett Rogers (10-0)
(W) (30-1) 2009 Andrei Arlovski (15-5) UFC Heavyweight Champion (1 time)
(W) (29-1) 2008 Tim Sylvia (24-4) UFC Heavyweight Champion (2 time)
(W) (28-1) 2007 Hong-Man Choi (1-0) 7'2 350 lb
(W) (27-1) 2007 Matt Lindland (20-4)
(W) (26-1) 2006 Mark Hunt (5-2)
(W) (25-1) 2006 Mark Coleman (15-7)
(W) (24-1) 2005 Zulu (9-0) 6'8 380 lb
(W) (23-1) 2005 Mirko Filipovic (16-2)
(W) (22-1) 2005 Tsuyoshi Kohsaka (24-15)
(W) (21-1) 2004 Antônio Nogueira (24-2)
(N) ( ) 2004 Antônio Nogueira (24-1)
(W) (20-1) 2004 Naoya Ogawa (7-0)
(W) (19-1) 2004 Kevin Randleman (15-7)
(W) (18-1) 2004 Mark Coleman (13-5)
(W) (17-1) 2003 Yuji Nagata (0-1) IWGP Heavyweight Champion
(W) (16-1) 2003 Gary Goodridge (17-13)
(W) (15-1) 2003 Kazuyuki Fujita (9-3)
(W) (14-1) 2003 Egidijus Valavicius (5-2)
(W) (13-1) 2003 Antônio Nogueira (19-1)
(W) (12-1) 2002 Heath Herring (20-7)
(W) (11-1) 2002 Semmy Schilt (22-10)
(W) (10-1) 2002 Chris Haseman (18-11)
(W) (9-1) 2001 Lee Hasdell (3-6)
(W) (8-1) 2001 Ryushi Yanagisawa (24-21)
(W) (7-1) 2001 Renato Sobral (19-2)
(W) (6-1) 2001 Kerry Schall (5-2)
(W) (5-1) 2001 Mihail Apostolov
(L) (4-1) 2000 Tsuyoshi Kohsaka (20-9)
(W) (4-0) 2000 Ricardo Arona (2-0)
(W) (3-0) 2000 Hiroya Takada
(W) (2-0) 2000 Levon Lagvilava (1-2)
(W) (1-0) 2000 Martin Lazarov
Fedor 'The Last Emperor' Emelianenko memorable photos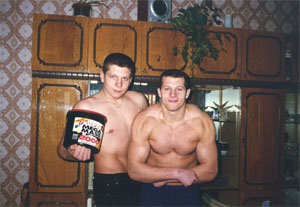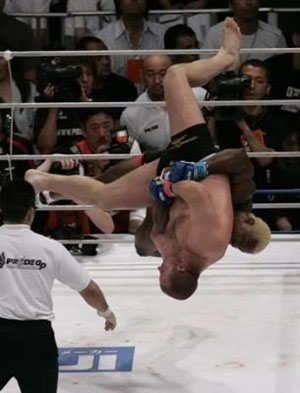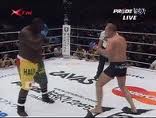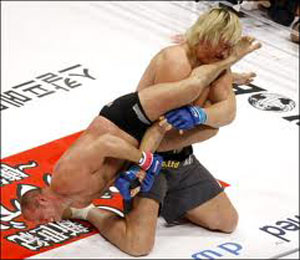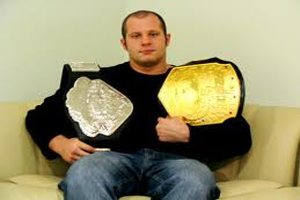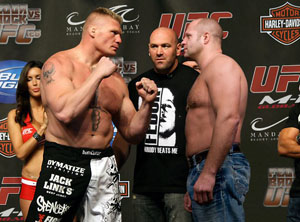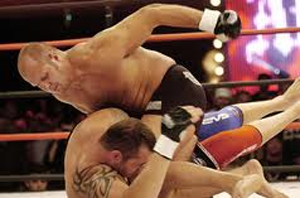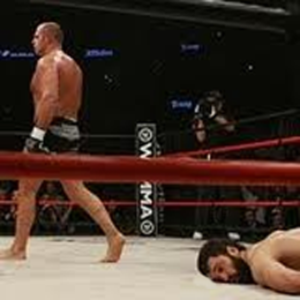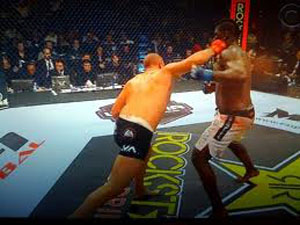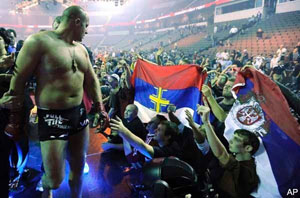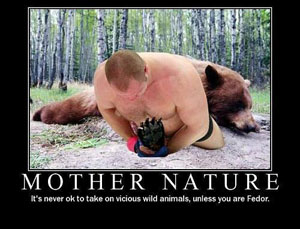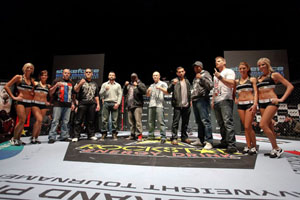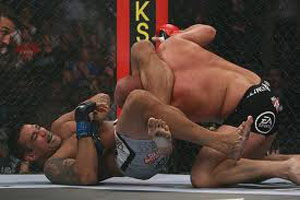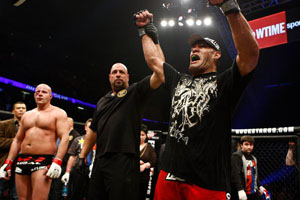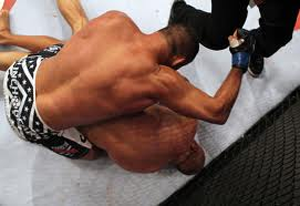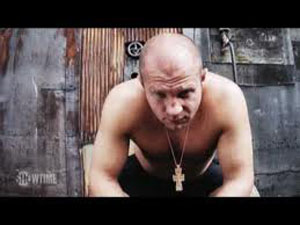 Compilation of prominent people in MMA commenting on Fedor
"Fedor is the best pfp fighter in the world" – Randy Couture, UFC HW Champion
"Fedor is the best pound-for-pound fighter in the world aside from bj Penn, those 2 are the best fighters in the world" – Rampage Jackson, UFC LHW Champion
"It's FEDOR dude!" – Eric Pele
"He is the BEST" – Mark Coleman, former UFC HW Champion and Pride GP Champion
"The best in the world, no doubt" – Phil Baroni
"Look, I've fought many people from around the world, so I've seen many strong fighters. But like him, never" – Renato Sobral
"Fedor is on top now, it's hard to beat him now" – Pedro Rizzo
"NOBODY wants to fight Fedor" – Wanderlei Silva, former Pride MW Champion and GP winner
"Our great champion, he is the BEST in the world" – Josh Barnett, former UFC HW Champion and ADCC Champion
"Fedor has no equals in Sambo or MMA" – Aleksander Mikhailin, 3-time World Judo Champion and Fedor's former training partner
"Fedor would be absolutely great in K-1" – Ernesto Hoost, 4-time K-1 World Champion
"Probably the best ever lived. Pound for pound the best in the world" – Diego Sanchez
"Fedor is my favorite" – BJ Penn, former UFC Welterweight Champion and BJJ world Champion, NWFS 7/9/06
"Fedor is the most incredible fighter you'll ever see" – Frank Trigg
"Fedor is pound-for-pound best in the world" – Shamada (Pride referee)
"Fedor is a machine" – Don Frye
"The best fighter to climb into ANY areana is Emelianenko fedor. He is in his own league and you can't compare nobody" – Kevin Randleman, former UFC HW Champion
"Fedor is just too dominant, too good at punching people in the face. The way he punches people man he's trying to kill people, with both hands. He's in a whole different class by himself" – Brandon Vera
"He is the best and undefeated… His striking game and his ground game is the best, so that's why he is the best. He is the sh*t" – Mark Hunt, K-1 World Champion
"He's the best. He gets in position to throw the big bombs, he throws just as hard on the ground as he does on the feet. That's why he's the world Champion" – Mark Coleman
"He's the fastest I've ever seen. And he's got a great reaction. Technically he may not have such a big advantage, but physically he is the fastest heavy guy in MMA history. He is really with a good combination of styles, he can go from one art to the other, that's what makes him different" – Antonio Rodorigo Nogueira
"He has a fast eye, good for counter-attacking. And in every fight he shows up with something new under his sleeve" – Pedro Rizzo
"Fedor has no weakness! I have seen so many fights, and even the best fighters in the world have a flaw in their game but I have yet to find one in Fedor Emelianenko" – Bas Rutten, former king of Pancrase and UFC HW Champion
Liddell: 'I'll fight anyone, Silva? Yeah sure, Quinton Jackson? Sure, Randy Couture? Sure'
Reporter: 'What about Fedor Emelianenko?'
Liddell: 'Well if I'll have to…I'll fight him…if I have to'
Artcile written by T666 ©